Dr. Daniel T. Lee
General & Cosmetic Dentistry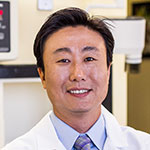 Dr. Daniel T. Lee, San Jose, CA, practices a full scope of general and cosmetic dentistry with expertise ranging from porcelain veneers to dental implants, crowns and bridges. Dr Daniel T. Lee can now correct a wide variety of so-called permanent cosmetic dental problems, and can literally redesign your smile.
General & Cosmetic Dentistry can give you a smile you're happy to show off. Modern cosmetic dentistry techniques make it easier than ever for you to have a bright, even smile.
Dental implants are designed to provide a foundation for replacement teeth that look, feel, and function like natural teeth. If you have lost teeth, dental implants can help you regain the ability to eat virtually anything and can smile with confidence...
Education
BS Microbiology, UC Santa Barbara
D.D.S, University of the Pacific San Francisco, 2006
Memberships
American Dental Association
Santa Clara Dental Association
California Dental Association